Sherlock Holmes illustrated by Sidney pagnet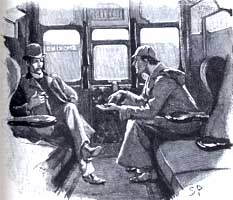 Christopher Howse at The Telegrapgh wonders why novels for adults no longer come with illustrations, though obviously he is not counting graphic novels. His article concludes:
" . . . Readers of Virgil's Aeneid were delighted when it had coloured illustrations, as we know from rare 5th-century manuscripts. So were readers of Dante. Both are very grown-up books. But today we wouldn't dream of reading novels with illustrations. It's bad enough having an image from television on the front of a Jane Austen paperback – we feel like covering it in brown paper.
I really don't know why this change came about. It took place after the death of the big Victorian novelists. Dickens's illustrators (Phiz for David Copperfield, Cruikshank for Oliver Twist) moulded our idea of his characters, but did not define them. Characters from Dickens even formed subjects for popular painters such as William Powell Frith (whose Dolly Varden from Barnaby Rudge hangs in the Tate).
Trollope's novels, too, came with pictures. Millais illustrated six (though engraving and printing weaken the impact), not always to the author's delight. "It would be much better to omit it altogether," he said of one for Framley Parsonage. "The picture is simply ludicrous." Today, almost everyone reads Trollope unadorned.
Perhaps the cusp for adult illustration was Sherlock Holmes, whom Sidney Paget illustrated from 1891, in the Strand Magazine. No one has been able to break free from his image of the detective. After his time, illustrations for adult books (until the quite separate development of graphic novels) sank into the weedy shallows of the pulp fiction market. Yet we still think them right for children's books, and children have more powerful imaginations than dull old grown-ups."
-----So, do we want illustrations with our modern novels or would that ruin them? I believe I would enjoy them because I certainly treasure the older illustrated books on my shelves and the copies of illustrated books in my various eReaders. But the downside of course is that book pictures might clash with the images in my head, and would I even have my own images if there were illustrations?